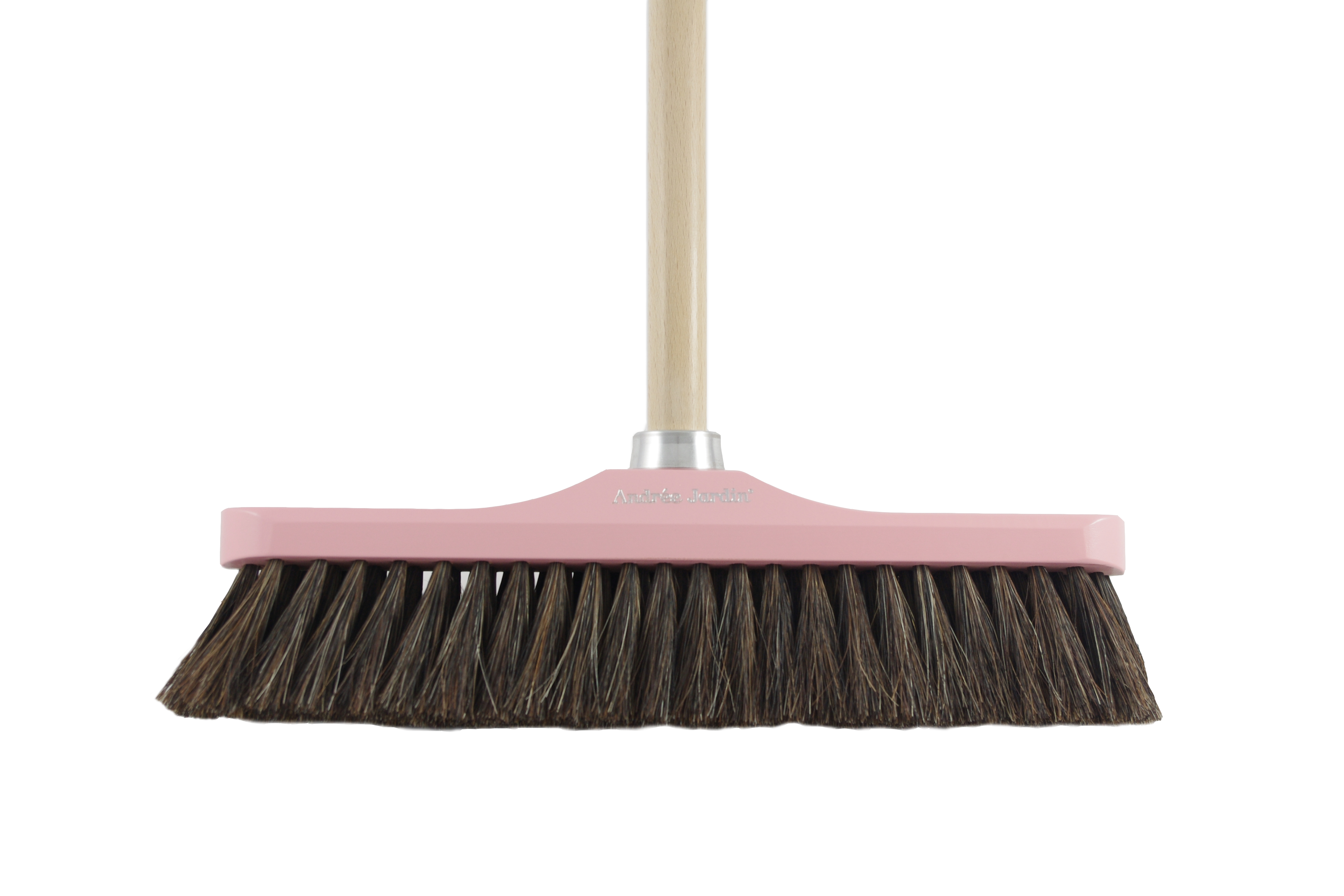 Andrée Jardin Vintage 13" Light Pink Broom Head
Handmade broom head with metal fitting for handle (handle sold separately). Genuine French beech wood and natural fibers. Made in France.
Compatible with the COLLAPSIBLE BEECHWOOD BROOM HANDLE  5300-6608
 Also available in light pink and light blue.

Purchase the matching hand brush here: Light Pink Hand Brush
Our vintage design have never been so current! Mixing traditional shapes with contemporary colours, your household brooms have never looked so decorative.

This vintage beechwood broom is made with soft fibres of pure horsehair, it is perfectly suited for fragile floors, including wooden floors and waxed concrete. 

🌿 Composition
- Lacquered beechwood from French sustainably managed forests
- 100% natural horsehair fibres
- Aluminum socket
- Made in France

📏 Dimensions
Length of the handle : 130 cm
Width: 33 cm / 13"
Weight : 0,6 kg

✔️ Tips
To make your broom last, we recommend cleaning it from time to time. Follow these 5 steps:

1. Dip the bristles of the brush in soapy water
2. Rinse them with warm water
3. Shake off the remaining water after washing
4. Let the broom dry at room temperature
5. Finish by combing the bristles

And be careful not to leave your broom outside, wood could degrade if left outdoors.

Shop the entire Andrée Jardin line here.


Andrée Jardin
Since 1947 Andrée Jardin has created "de vrais balais qui durent" (translation "real brushes that last"). Andrée Jardin is reviving the craft of what were once called "Paris articles": hairbrushes, clothes brushes, house brushes, brooms.... Promising simplicity, quality and durability, Andrée Jardin designs and manufactures essentials for the home that are equal parts useful, well-made and beautiful.