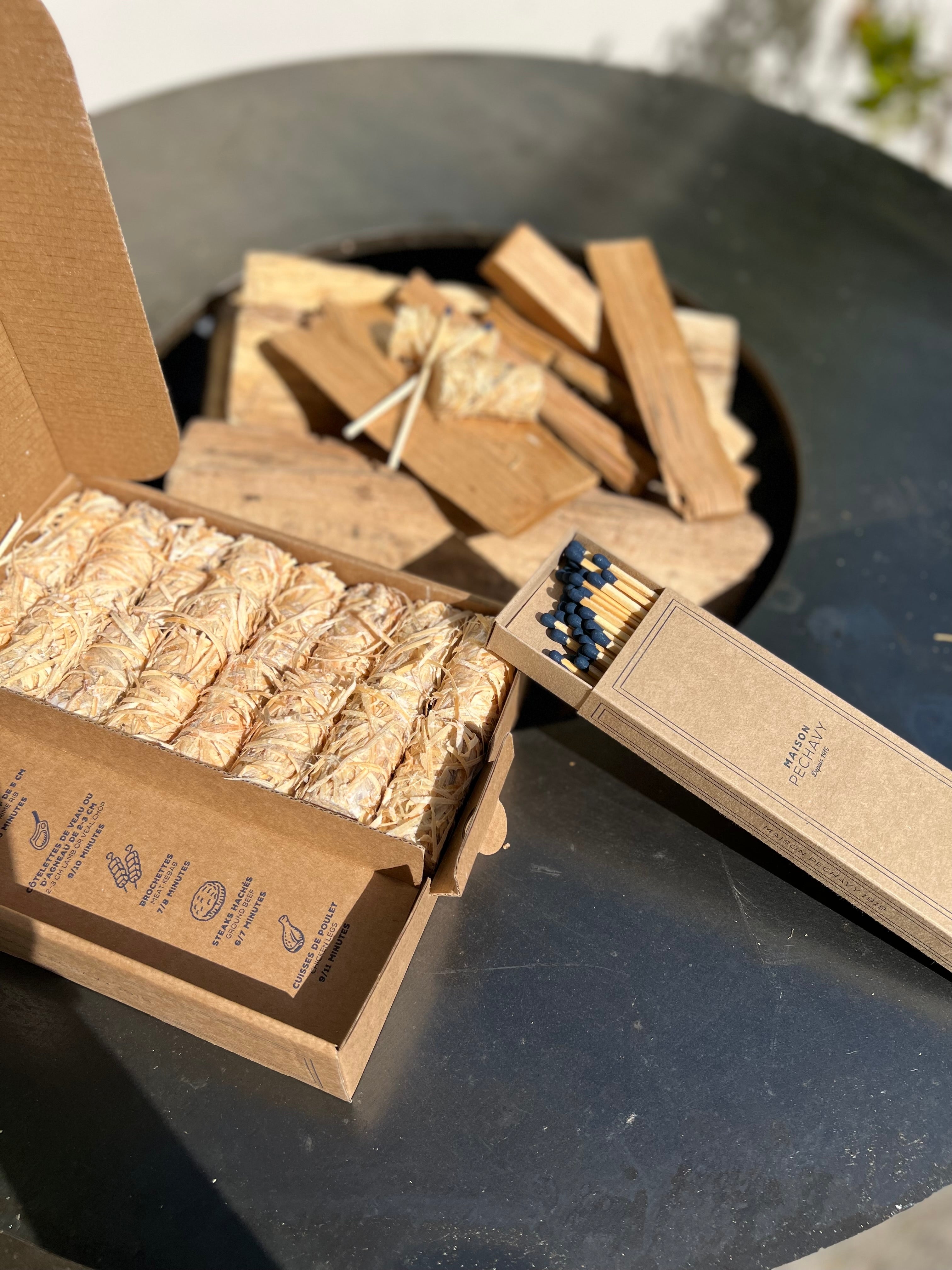 Maison Pechavy Eco-friendly BBQ Set
Take advantage of the long summer evenings to light the flames of your barbecues. Maison Pechavy presents a new product, the BARBECUE SET, which includes 40 natural firelighters and a box of 40 long matches. Everything you need to become a real barbecue pro!
Natural firelighters
The Maison Pechavy fire starter is made of wood wool from sustainably managed and FSC-certified forests and is environmentally friendly. It is impregnated with pure, odourless wax, so you can enjoy perfect, environmentally friendly cooking. These natural fibre balls leave no taste, no chemical smoke and no toxic residues on the food. The burning time of a fire starter is 8 to 10 minutes, 1 to 2 sticks are enough!
Long matches
Maison Pechavy long matches are unique, they allow you to light your barbecue fire safely and without risk of burns. These long matches are made from natural poplar and are not treated in order to respect the grills and the atmosphere of your barbecues.
The method is simple. Place the firelighters in the bowl of your barbecue and cover it with firewood. Light the fire with the Maison Pechavy long matches. Once the fire is well established, the charcoal can be poured in.
Combined with dry wood, wood logs or compressed wood or charcoal, the Maison Pechavy natural fire starter leaves very little ash. Are you a Weber or Ofyr barbecue fan? Lighting your charcoal barbecue fires will no longer hold any secrets for you!
Prepare the embers of your barbecues, braziers or wood smokers with the Pechavy Home Barbecue Set. Avoid newspaper, chemicals, flammable products and toxic fumes by choosing this set which allows you to light the embers of your barbecue without effort.
Healthy cooking without harmful residues is yours! Find a guide signed Maison Pechavy to successfully cook your grills!