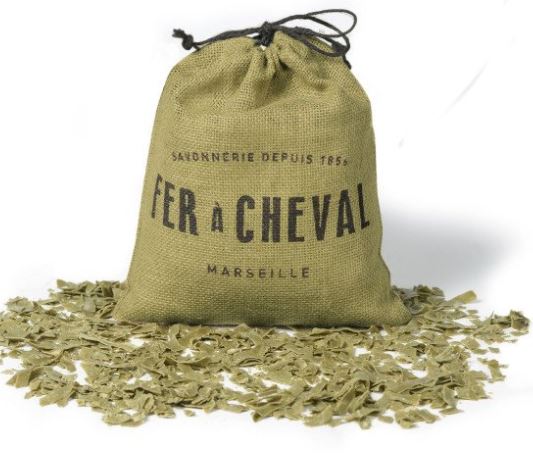 Fer à Cheval Genuine Marseille Soap Flakes Olive-based 750g
DESCRIPTION
ADDITIONAL INFO
INGREDIENTS + DIRECTIONS
Discover our flakes of Marseille olive soap, packed in a jute bag.

Our flakes are made from Marseille soap and represent an economical, environmentally-friendly and multi-use solution for laundry, washing linen and clothes; ideal for sensitive skin.

Shop the entire Fer a Cheval line here.


The Ancestral cauldrons saponification process

Nearly 10 days are necessary for the elaboration of our cauldron-cooked soap according to the Marseille process. This ancestral know-how transmitted by Master soap makers through generations is still used to this day.

A natural, hypoallergenic soap

This soap is exclusively plant-based. It does not contain any preservatives, dyes, additives or animal fat.

Easily biodegradable and environmentally-friendly.

It represents an ecological alternative to chemicals found in most skin care and housekeeping products.

Its generous size and minimal water content makes it economical for longer preservation

Its recyclable packaging was conceived to respect the environment.

INGREDIENTS + DIRECTIONS

More than 30% soap (actual value of 72%)

This soap is easily biodegradable, and exclusively plant-based.

Sodium Olivate - Sodium Cocoate - Aqua - Sodium Chloride - Sodium Hydroxide

To prepare your laundry liquid: mix 40g of soap flakes with 1L of very hot water, stir well until it jellifies. Store the laundry liquid in an appropriate bottle and shake well before use.

Handwash: mix 50ml of ready-made laundry liquid into 5L of water.

Washing machine: use 75ml of ready-made laundry liquid for 5kg of laundry, or 100ml for very dirty clothes. For best use, regularly pour a glass of white vinegar into your fabric softener compartment.

With time and according to their exposure to light and humidity, soap may be subject to variations in colour and lose volume; nevertheless, it keeps its effectiveness.