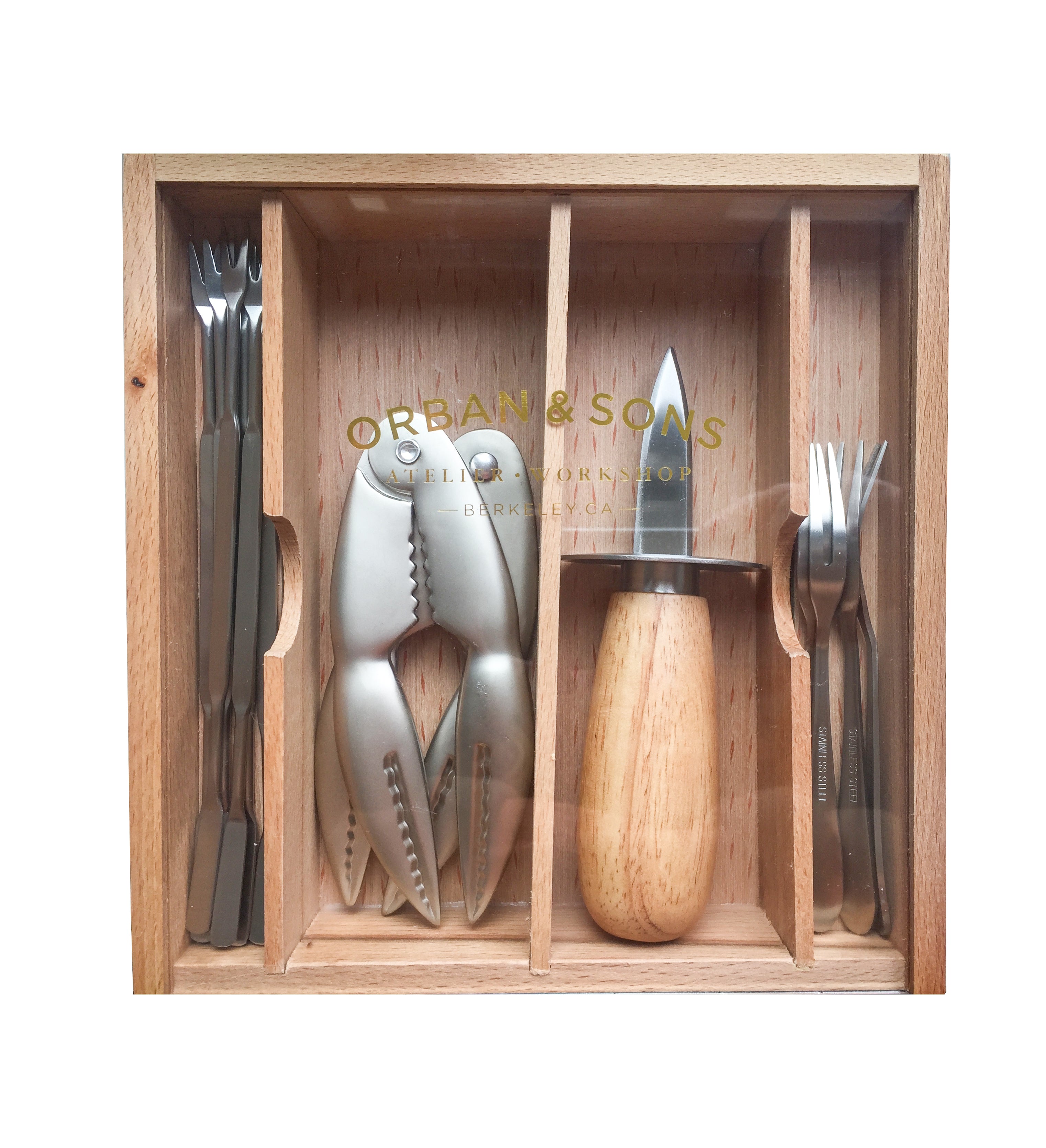 Orban & Sons Seafood Set with Cracker in Wooden Box with Acrylic Lid
Set of stainless steel durable seafood tools and utensils, handsomely packaged in a wood gift box. Features narrow tines and long seafood forks, fit easily to retrieve every morsel of shell meat.
Gifting made easy! What better gift to give the seafood lover in your life?  Whether their favorite dishes are lobster, crab, crayfish, mussels or oysters, this seafood set is sure to please and makes opening oysters and crustaceans effortless.
This gift-ready wooden box with transparent acrylic lid showcases our beautiful set of four, which includes: one oyster/clam (shucking) knife, two lobster claw crackers, five long seafood picks, and four short shellfish forks.  Lobster cracker tongs are fashioned to look like lobster claws. Bon appétit ! 
Care:  Claw cracker and forks are dishwasher safe. Oyster knife is handwash only due to wooden handle.
Dimensions: 7" x 8.2" x 2"
 Made in China.
Orban & Sons
Orban & Sons celebrates the hardware store of decades past. An institution that, much like the sturdy wares it sells, stands the test of time in the community it calls home. A place where you'll always find exactly what you need among the tidy displays brimming with odds and ends and leave feeling inspired by the array of texture, color and materials stacked from floor to ceiling. In this instant-everything newest-now age, Orban & Sons evokes this good old fashioned hardware store and presents a collection of vintage inspired & expertly crafted essentials for the home.

Shop the entire Orban & Sons Collection here.